Contents
1977 – First Experimentation of Footbag over a Net
August 20 1977 1st Footbag Event 1st Annual Easter Seals Kick-A-Thon (Delta Park, Portland Or) which was a Consecutive kick event.
December 1977 1st Footbag Tournament 1st Annual Hacky Sack Holiday Tournament A consecutive kick competition. During this tournament a volleyball net was available in an upper gym and the first experiment with playing over an 8 foot with 5 people on a side with maximum of 5 kicks allowed.
1978 – More experimentation with net height and number players per side
1978 No tournaments were held but some key milestones were accomplished.
At a sporting goods show in San Diego California, experimentation of playing over a 3 foot net on a tennis court occurred.
An appearance during the halftime of a Portland Trailblazer game. Demonstrated over a 8 foot high net with 3 people on a side using 5 kicks.
1979 – First Footbag Net Tournament and Birth of playing over 5 foot net
July 1979 1st Footbag Net Tournament MDA (Muscular Dystrophy Assn)/Hacky Sack Challenge at the KGW Neighborfair. The competition was over a 8 foot net with 6 doubles teams.
Teams:
Jerry Cunningham and Craig Hufford (Milwaukie, Or)
Mark Hill and Jean Hall (Vancouver, Wa)
Ned Annan (Spokane, Wa) and Mag Hughes (Portland, Or)
Jane Wievesick and John Stalberger (Oregon City, Or.)
Walt Mason (Lewiston, Id) and Dave Hill (Milwaukie, Or)
Ed Robertson (Vancouver, Wa) and Charlie Stephens (San Diego, Ca)
Results:
1st Jerry Cunningham and Craig Hufford
2nd John Stalberger and Jane Wievesick
3rd Walt Mason and Dave Hill
November 1979 1st Footbag Net Tournament over 5 foot net Roseburg Net Tournament Doubles competition.
Results:
1st John Stalberger and Craig Hufford
2nd Walt Mason and Dave Hill
3rd Dave Gunther and Will Ernst
1980 – First National Hacky Sack Tournament and First Clubs formed
July 1980 1st National Hacky Sack Tournament. "The Mike Marshall Memorial Tournament" was held in Oregon City, Or with 11 states represented. The tournament format included singles and doubles "Hacky Sack" Net with double elimination brackets. Results: Net Singles Advanced
1st John Stalberger
2nd Walt Mason
3rd Ken Shults
Net Singles Novice
1st Richard Smithson
2nd Max Smith Jr
3rd Keith Self
1979/1980 1st Footbag Clubs Formed "Footbag Pioneer Club" in Oregon City, Or and "The Flying shoe" in Eugene.
Footbag Pioneer Club Members: John Stalberger (HOF),Ted Huff (HOF), Garwin Bruce (HOF), Lori Jean Tarr (Conover) (HOF), Mag Hughes (HOF), Mike Noonan (HOF), Robert Conover (HOF), Billy Hayne (HOF), Cheryl Aubin (Hughes) (HOF), Rita Buckley (HOF), Dave Hill (HOF), Shannon Aubin, Clarke Schneider, Richard Smithson, Bart Brocklehurst, Gary Finley, Ed and Dean Redwing, Dennis Mackler, Doc Yates, Brian Brown, Misty Helms. The Footbag Pioneer Club and the Flying Shoe Club sponsored 10 to 15 tournaments, plus attending tournaments all over the Northwest, a year from 1980 to 1983.
1981 – Several Tournaments Held Across the US
1981 The Halloween Custume Kick 1981 Santa Barbara Ameteur Hacky Sack Tournament 1981 Pumice Open 1981/82 Bonecrusher Open – 1981/82 Valentine Kick Spokane, Wa Ned Annan and Jerry Uppinghouse
1982 – Start of Footbag Net in Europe
Sept 1982 – Danish Footbag Association started by Wigger and Stephen Skriver
1982/83 First Women Organized Tournament "The Awesome Aubin Open" Cheryl and Shannon Aubin 1982 Oregon State Championships 1982 Colorado Footbag Championships 1982 Texas Footbag Championships
1983 – Two National Tournaments Held, First Danish Tournament
1983 National Hacky Sack Players Championships
1983 WFA National Tournament
1983 WFA Turkey Tournament
April 1983 Danish Footbag Association held the very first tournament First Danish tournament in Skelskor in Denmark on Saturday the 16. April 1983. It was also the first footbag tournament in Europe. The tournament was called "Worlds 1st Danish Hacky Sack footbag Championships" and the name of some of the hacky sack clubs who particpates was "Jumpin' Jack Flash Hacky Sack Stars" and "Zick Zack Hacky Sack". Net Hacky both single and doubles were played and also Hacky Golf, Long kick, Most kicks and Freestyle kicks.
Here are some of the results from the Danish Hacky Sack Jury back in 1983:
Net Hacky #1 – Henrik Borring/Stephen Skriver
Single Kick – Wigger
(source – Stephen Skriver)
1984 – First European Footbag Net Championship
The first European Footbag Net Championships was held in August 1984 in Copenhagen at Falledparken Results:
1 Henrik Borring/Stephen Skriver
1986 –
1987 –
1988 –
1989 –
First Montreal Footbag Championships Open singles net: 1- Yves Archambault 2- Martin Cote
Open doubles net: 1- Yves Archambault / Martin Cote 2- Jake Leong / Ian Kobayashi
1990 –
1991 –
1992 –
1993 –
1994 –
1995 –
1996 –
First World Footbag Championships to be held outside of United States, organized by Association Quebecoise de Footbag, tourament director Yves Archambault, Montreal, August 5th to the 11th 1996. Results here: http://prokicker.ca/eng/wfc96_results.htm
1997 –
1998 –
1999 – First French Footbag Open – Montpellier July 10-11
Six teams competed in doubles net at the first edition of the French Open.
Winners:[Olivier Gonelle] and [Miquel Clemente].
File:Www.footbag.fr.st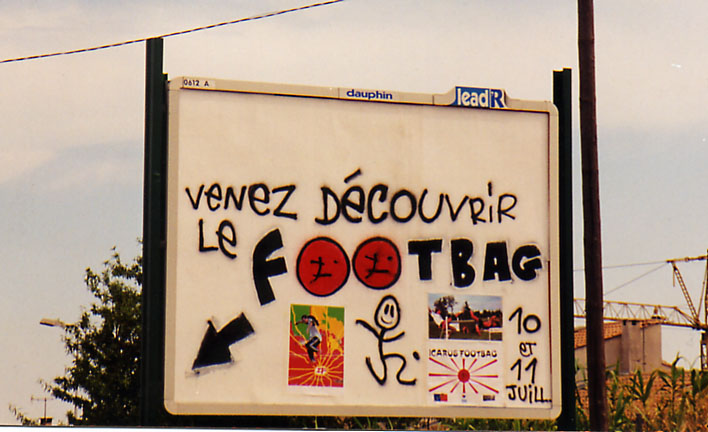 2000 –
2001 –
2002 –
2003 –
2004 –
2005 –
2006 –
2007 –