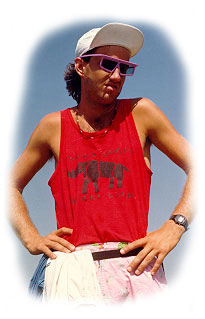 Kenny Shults... the most decorated and perhaps the most celebrated open footbag competitor in the history of footbag. He is among the fiercest competitors in all sport and is also blessed with an impeccable sense of style. Uh... and humor.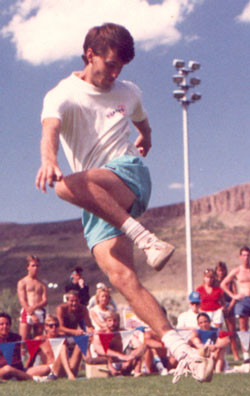 In 1985, yes... 85', this freestyle move came to him in a dream. So true.
Kenny "The Enforcer" Shults
45 World Championship Titles:
6 Singles Freestyle
3 Team Freestyle
Original Big Add Posse Member
(Newtown, PA, USA)
Featured on Guinness Book of World Records, Wall Street Journal, Sports Illustrated, National Geographic World Magazine, Young Athlete Magazine, Stuff Magazine, ESPN, Good Morning America, Prime Sports, CNN, Bob Uecker's Wild and Wacky World of Sports.

Icons. Baseball has Babe Ruth. Basketball has Michael Jordan. Soccer has Pele. Hockey has Wayne Gretzky. Skateboarding has Tony Hawk. Footbag has Kenny Shults.

Kenny Shults has confirmed that he will be at the World Footbag Championships 2002. That's right. Your eyes do not deceive you. You can wipe the sweat of your forehead. The most legendary name in footbag will be in San Francisco to make this the greatest event in the history of our sport. Many have dreamed for the day that footbag's greatest brand name would return to the World Championship scene. According to his attorneys, a press conference has been arranged in order for Kenny to make a special announcement that could very well change the fate of the sport that he helped to create. What does he have to announce? What surprises will he have in store? Is the legend coming out of retirement? Has the rampant chaos of "new skool" caused him to seek an end to our beloved sport? One thing is for certain, his announcement will affect the lives of every footbag player on earth.

Children across the globe have long since lost their faith in this world. They want to believe in the dream again. They want to believe in "the Enforcer". Eagerly they await the return of their hero, this slice of Americana. Will their prayers be answered? Find out this summer at the prestigious Palace of Fine Arts in San Francisco, California at the final rounds of the World Freestyle Championships 2002.