7/21/2002...
The World Champions of Open Doubles Net,
Yves and Alexis
begin their quest for a 2nd title in a row. Just two weeks and one day until the World Championships is under way. Don't miss this event! While you wait... check out the
coming attractions
section for player bios on some of the planets best footbag players.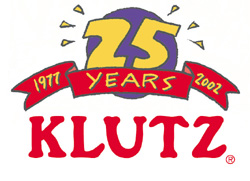 Also new... Klutz celebrates 25 years and is an official sponsor of the World Footbag Championships - 2002. To celebrate, KLUTZ Kicks up tips on "How To" Play Footbag, Rules, Do's and Don'ts on its
web site
.
7/17/2002...
YM Magazine Has Something To Say?
An uncorroborated report states that the latest edition of YM Magazine has listed the World Footbag Championships on an unspecified event calendar in their publication. The mention states something to the effect of...

August 5th - "The World Footbag Championships in San Francisco start this day. What could be better than watching a bunch of cute boys playing hacky sack?"

Seems the groupies may be frolicking even more than usual this year.
7/15/2002...

IFPA, WFC and CFA have reason to celebrate! It is finally official... The Czech Footbag Association was granted their U.S. Visas on July 12th and they are sending 4 of their best players to represent the Czech Republic at the World Footbag Championships - 2002. Check our
coming attractions
section for player bios on 2 CFA stars,
Ales Zelinka
and
Vasek Klouda
.
Also new... Storied champion
Daryl Genz
returns to defend his doubles freestyle title and try for his first singles championship. Daryl is a scary man when wielding his blades. Also, another up and coming international freestyle sensation will be representing. His name,
Yacine Merzouk
, he is from Montreal, Quebec, and he is a favorite to qualify for the singles freestyle final for the second time in as many years. He wants more than the finals this time though. He wants the title.
7/04/2002...
Learn From The Best
"Brothers From Different Mothers"
, (AKA... Alex Zerbe and Matt Baker), are rallying some of the worlds best footbag players and jugglers in order to present workshops for beginner and intermediate level players throughout the week of the World Championships. Workshops will be held on site and will be approximately one half hour in length. More details will be available soon. For now, know that the following super-stars of footbag and juggling will be your guides along with "the Brothers" themselves...
Kenny "The Enforcer" Shults:
The history of footbag freestyle and Gyro
Yacine Merzouk:
"Schooling with the fiend! Footbag for beginners"
Greg "GF Smoothie" Nelson:
Developing a routine
Scott "High Enlightener" Davidson:
Routines and schooling
Ben West:
3 ball workshop and beginning footbag
Peter "The Executioner" Irish:
Shredding with PETER IRISH!!
6/05/2002...

Tickets are now available for semi final and final rounds of all events at the WFC 2002, including for the first time ever, the "net" event. Also available - a "World Championships Pass" which grants access to all 4 events, semi finals and finals of Freestyle and Net.