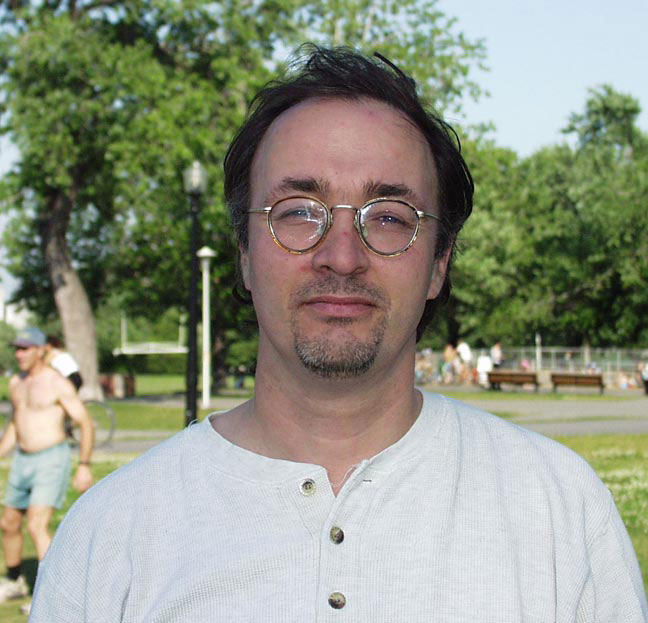 Martin "the Snake" Cote
2 Time World Finalist
(Montreal, Quebec, CAN)
Chris "Conan" Siebert
World Finalist
(Fairfax, VA, USA)
The Legend of the Snake, the Bear, and the Barbarian
In Montreal the legend of the snake and a bear is well known. Martin Cote possesses the swift cunning of "the Snake" & Martin Graton plays with the inhuman power of a Canadian Grizzly. Together for years, the duo engaged in fierce battle over the skies of footbag net. Alongside Yves Archambault, these giants set the foundation for one of the most dominant cities in footbag, Montreal, Quebec.

In 2001, the Bear decided it was time to enter hibernation and settle down. But Martin Cote and he were so close to a doubles world title finishing second in 2000. Was it time for the Snake to also retire?

Hope is not lost. Whispering on the wind from the east, came stories of a man. A barbarian. With wild flowing hair and robust stature, "Conan" was one of Footbag Net's rising stars. Players across the land feared the might of his powerful Axe. The ancient prophecies foretell of Chris "Conan" Siebert becoming one of footbag net's greatest champions. The snake enlisted the services of this barbarian and together in their first World Championship, fighting alongside one another, they managed to make it all the way to the final match. However, the title eluded them.

Now in 2002, will destiny hold true? Will the snake and barbarian write a new chapter in footbag net history? Will they stand tall, side by side, on the championship podium this year in the city by the bay? Find out August 10 & 11 at the at the famed Justin Herman Plaza in San Francisco, California at the final rounds of the World Footbag Net Championships 2002.