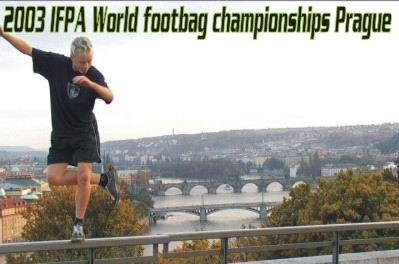 - Videos on footbag.org
- First RESULTS available. More coming soon.
- Saturday and Sunday between 1pm - 7pm a Pre-Worlds kick session takes place at Kampa park. All players are welcome.
-The graphics for the 2003 World's promotional materials, namely flyers
and posters, have been finished. See the pictures.
Players Registered By Country:
Austria
14
Japan
1
Bulgaria
1
New Zealand
1
Canada
14
Poland
7
Czech Republic
16
Russia
3
Denmark
6
Slovakia
4
Estonia
4
Slovenia
10
Finland
22
Switzerland
12
France
16
The Netherlands
1
Germany
23
Usa
48
Hungary
1
TOTAL
204
- Players. Sometimes we all look back to the things that have been done, we look back to what we call history. Also our sport has a rich history, there was many pople we shoud thank for what they have done and what contributed to what our sport is now. Every year the group of these exceptional people grows wider. These are 2003 FOOTBAG HALL OF FAME INDUCTEE'S:
- The deadline for pre-registration has expired on Jul. 7. All players who want to register after this day will have to pay an additional fee of 10 Euros.
Click here for a list of registered players.
-The picture shows the official logo of 24th annual World footbag championships Prague 2003.
- Updated:
Full WFC schedule including sport events, meetings, night programs and exhibitions available in section Program.
Take a look what special Showtimes you can look forward to see in Prague in just a few weeks!
- Worlds start in about one month and the preparations in Prague are in a full swing. All organizers work at a top speed to make this year the best of the best! Vaska Klouda, the reigning World freestyle champion, just received two new Carolbags and trains hard to defend the title. Don't miss it. (See photos).
- Stunning Video-teaser!
- Declaration of CFA president:
Dear World of Footbag, it is my great pleasure to lead the organization hosting the first IFPA World footbag championships taking place in the European continent. Receiving such a trust from IFPA leaders is a confirmation of our international reputation, which we are very grateful for. We will do our best not to fail this trust and to make the days of upcoming 2003 World footbag championships Prague belong to the best days of the lifes of all participants. I know we can make it together.
Tomas "TMS" Tyrpekl, CFA president