Manually Entered Results

Singles net

1. Tuo­mas Kärki
2. Matti Poh­jola
3. Jani Säntti
4. San­teri Kar­vi­nen
5. Tuo­mas Rii­salo
6. Ilkka Ma­lin

Doubles net

1. Matti Poh­jola / Jani Säntti
2. Os­kari Forstén / Tuo­mas Kärki
3. Tuo­mas Rii­salo / San­teri Kar­vi­nen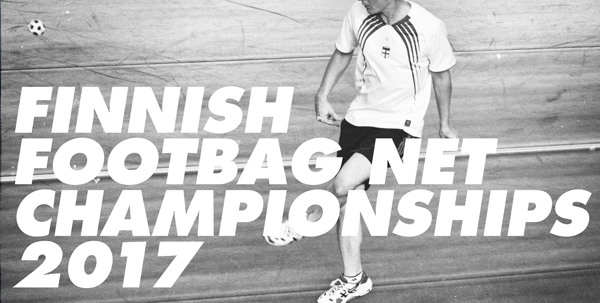 Finnish Championships in footbag net is a twin-city event: On Saturday we'll compete in Puhos Center in Helsinki, and on Sunday we'll be in turku, in Leaf Areena. We will offer Open Singles Net and Open Doubles Net. We are still working on exact schedules, but expect to start playing at 11 am on both days. Please register by emailing yout name, events and partner to liitto(a)footbag.fi no later than November 9th. Entry fee is 30 euros. Please don't hesitate to contact that same email if you have any questions.
Created Sunday, October 29th, 2017, 09:43am (PDT); last
update
Wednesday, November 29th, 2017, 07:21am (PST).