Freestyle Frisbee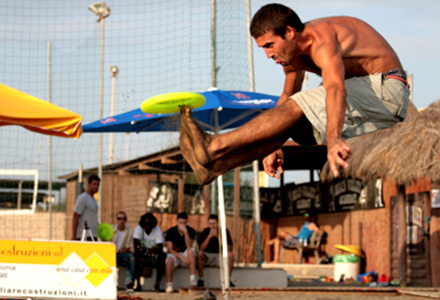 Freestyle Frisbee schedule
OPEN PAIRS:
Three rounds - Preliminary, Semifinals, Finals
OPEN COOP
Three rounds - Preliminary, Semifinals, Finals
MIX PAIRS
Two rounds - Semifinals and Finals
Thursday
19.00 - 20.00 Optional players meeting, creating the pools and judges tables
Friday
10.00 - 10.30 Players meeting and check-in
10.30 - 13.30 Preliminary open pairs
13.30 - 15.00 Lunch break
15.00 - 17.00 Preliminary open coop
17.00 - 19.00 Semifinals open pairs
19.00 - 20.00 Semifinals mix pairs
Saturday
10.30 - 11.00 Players meeting
11.00 - 13.00 Semifinals open coop
13.00 - 14.00 Lunch break
14.00 - 15.00 Finals mix pairs
14.00 - 15.00 Mix pairs finals
Finals of Open Pairs and Coops will be played on the Athletic Stadium Slavia
18:30-19:30 – Coop Freestyle Frisbee Finals
20:00-21:00 – Pairs Freestyle Frisbee Finals
Other info
Updates
Late check-in and registration info
Late registration and check-in will run on Sunday, August 10th, at Slavia Athletic Stadium (the event site) from 11am (11.00) to 10pm (22.00).
This is the time when you can arrive, pay your fees if necessary, and get your player's pack. This is the ONLY chance for you to check in if you did not pre-pay by August 7th!! Only "guests" (not competing) or pre-paid players will be able to pick up player's packs after this time.
for more info about check-in and registration check this page
Net schedule updated
Check the latest footbag net schedule
Important update
Hostel capacity of 120 beds have been used so you dont need to mail them anymore. We recomend that you contact other hostels in Prague for cheap accomodation. Please visit the accomodation page to see which we recomend.
Registration now opened
Official registration just launched! See more on registration page on footbag.org!
Tournament
For players
Photo
worlds 2008 models!