Footbag Interviews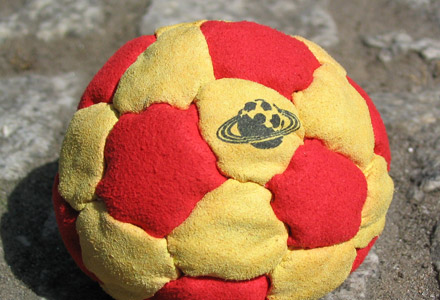 World´s players interviewed
Václav Klouda
6 times World singles champion and 4 times World doubles champion (Prague, CZ)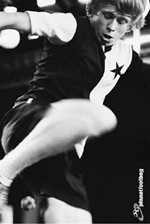 6 times and current World champion Vašek Klouda will be fighting for his 7th title in a row this August in Prague. He already managed to win the World title in Prague in 2003, but since then he became even more sovereign and everyone is expecting his next triumph. Vašek will surely show his best and will try to lengthen his title series.
Vašek, how are your chances to defend the title?
I hope I manage to avoid all injuries and other unexpected difficulties and that I will dominate the championships.
Is there any real threat for you?
It is a sport and anything can happen. It also depends a lot on the judges, you can never be sure what comes in their minds, but that is a general sport issue. However, as I said, if nothing unexpected happens, I should defend the title.
How many titles in a row would you like to win?
As many as possible, but minimum is 10.
Will you again compete in doubles?
Yes, I play doubles with Honza Weber. We changed the spectrum of performed moves and we practice our routine really hard, so we believe in success.
After several years you again have the advantage of playing in front of the home crowd, but could it also mean more nervousness for you?
Not at all, it always pumps me up!
Jan Weber
3 times singles vice World champion and 3 times World doubles champion (Prague, CZ)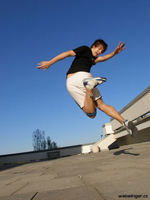 Honza has been for a long time Vašek's closest opponent and not only at World championships, but also at many other minor tournaments. For a long time they together also form still an unbeaten doubles team. At Worlds in Prague 2003 Honza ended up on 4th place, so this summer he is for sure going to be trying to push himself into the top 3 places.
Honza, which place would be success for you?
Second, but it is gonna be extremely hard due to the injury I was suffering for almost half a year since last autumn.
That is quite a while, so how are you getting back to shape?
I just practice harder, more attentively and most importantly I try to avoid all major a minor injuries.
You did not finish in top 3 places last year at Worlds in Florida.
True, even though I performed very solid routine I did not impressed the judges enough and unfortunately they preferred the local US competitors. It was a disappointment.
Is there a tough competition for the doubles title?
It is quite hard to say because every year most of the teams change, but the level is higher and higher every year.
Same as Vašek you will have the advantage of competing at Worlds in your home city, but could that make you more nervous?
Well, maybe a little, but there are so many positives about that which make it enjoyable and I am really glad that we got the honor to host the championships again.
Sergey Kozlov
3 times Russian champion (St. Petersburg, RUS)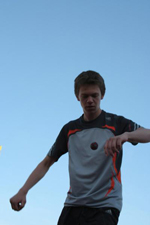 Sergey is a young Russian player, who is making huge level steps every year and still approaching the top footbag players. He can definitely be a big surprise of the championships and he has good chances reaching the medal places. This young Russian hope is very popular in his country and you can see him in many advertisements trying to make footbag more popular.
Sergey, how do you see your chances at Worlds?
I hope reaching the finals and then anything can happen.
I heard you prefer more minor disciplines than the main one.
Yes, it is just more fun for me, but I will be showing my best no matter which one I play.
Are there any other Russian players with a chance to shine?
I would really wish so, but beside Oxana, who compete in women, unfortunately not.
Is there any difference between Russian tournaments and tournaments in central and western Europe?
Yes, I think the ones in the last 2 are better organized and with higher level.
Have you ever been to Prague before?
No, this summer it will be my first time, I cannot wait! Everyone said it is such a nice place.
Tina Aeberli
2 times World women champion (Zürich, CH)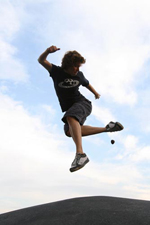 Tina is current World women champion, who is going to be defending her third title in a row. Similarly to Vašek, her dominance has become quite obvious lately that on some tournaments she has competed even in the men division, where she placed in the top places.
Tina, do you think you will defend the title?
I really wish so, but anything can happen in sport.
Is there a strong competition?
Yes, several girls are very good, so to defend my title, I shall not make any mistakes.
Have you ever been to Prague and are you looking forward to the championships?
Yes, I have visited Prague several times and I really enjoyed it. I am sure the championships will be great and well organized like the previous ones I have been to.
Do you think you could theoretically compete against men for the top places?
Well, I am not sure, my performance would have to be absolutely perfect and than I could have a chance.
Other info
Updates
Late check-in and registration info
Late registration and check-in will run on Sunday, August 10th, at Slavia Athletic Stadium (the event site) from 11am (11.00) to 10pm (22.00).
This is the time when you can arrive, pay your fees if necessary, and get your player's pack. This is the ONLY chance for you to check in if you did not pre-pay by August 7th!! Only "guests" (not competing) or pre-paid players will be able to pick up player's packs after this time.
for more info about check-in and registration check this page
Net schedule updated
Check the latest footbag net schedule
Important update
Hostel capacity of 120 beds have been used so you dont need to mail them anymore. We recomend that you contact other hostels in Prague for cheap accomodation. Please visit the accomodation page to see which we recomend.
Registration now opened
Official registration just launched! See more on registration page on footbag.org!
Tournament
For players
Photo
worlds 2008 models!