History of the IFPA World Footbag Championships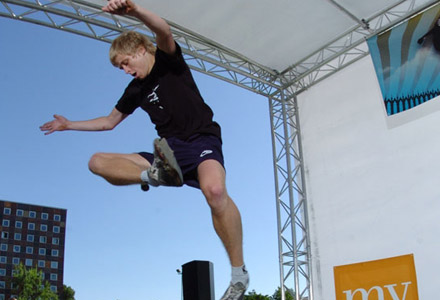 The IFPA World Footbag Championship started in 1980. Here's how it all began and how the championships developed. The first Footbag Championships, at the time merely a national event, were held in Oregon (United States) in 1980. In 1983, the competition moved to Boulder, Colorado for two years until 1985, when the championships began a nine-year stint in Golden, Colorado. In this suburb of Denver, several unforgettable pages of Footbag history were written, including the first official World Footbag Championships, held in 1986.
Under player pressure, the Championships eventually moved to San Francisco for 1994 and 1995, and in 1996, it left U.S. soil for the first time, bestowing Montreal with the honour as its host. The year was to become a landmark year in the sport's history: for the first time, a Canadian, Sebastien Verdy, secured a title in the open (and strongest) category, winning Net singles and doubles, with Emmanuel Bouchard.
In 1997, the competition returned to the game's roots in Portland, Oregon, where a record 212 players registered for the event, a number unsurpassed until 2003. In addition to the great sums of players, the level of talent made an immense jump from previous years, with top players receiving much attention. Peter Irish executed a show-stopping performance in freestyle finals, winning his fifth singles title, a world record he still holds today. The Championships were held in conjunction with a huge music festival, which attracted 200,000 spectators to the site every day.
In 1998, the World Championships returned to Montreal, and once again the event was an enormous success. The players greatly enjoyed Montreal, and tens of thousands of spectators witnessed the Freestyle finals at the Jardin des Etoiles and the Footbag Net finals at La Ronde. The year was especially memorable for Eric Wulff, Emmanuel Bouchard, and Carol Wedemeyer, all winning their first world champion titles in singles freestyle, singles net, and women's freestyle, respectively. All delivered exhilarating performances, pushing the level of play to unprecedented heights. Bouchard has since defended his singles world champion title five times, and remained unbeaten in his last 30 tournaments, while Wedemeyer has won four of the last five women's freestyle world champion titles.
Destiny brought the Championships to the Windy City, Chicago in 1999, where Scott Davidson claimed the singles Freestyle title on his home turf, upsetting hopeful up-and-comer Ryan Mulroney. Mulroney returned with a vengeance the following year in Vancouver, and crushed the competition. At 21, he broke the judging system with a score that was theoretically impossible, in a decisive win that would make him the youngest player to win the singles freestyle title in (10 years?).
2001 brought the Championships back to San Francisco, where Emmanuel Bouchard won singles Net once again and Ryan Mulroney defended his singles Freestyle title, proving to be a huge step above the competition.
In 2002, again in San Francisco, the sport of Footbag saw a new era in its evolution. Ryan Mulroney, hoping to tie the record of three straight singles freestyle titles was upset by a controversial call, and handed over the title to the newest phenomenon, Vasek Klouda, a 15 year old prodigy from the Czech Republic . On the courts, Bouchard dominated once again in singles, while the players from the U.S.A reclaimed the doubles crown.
Footbag took another grand, evolutionary leap in 2003, when the World Championships touched down outside North America for the first time, gracing Prague, Czech Republic as its host, and drawing a record number of 215 competitors from 21 countries. Vasek Klouda and Emmanuel Bouchard continued to rule their respective events, and Europe saw a thrilling display of athleticism they will not soon forget.
Worlds 2004 were hosted in Montreal , Canada . The audience had a chance to witness the dream match in singles net finals when Emmanuel Bouchard and the legendary Kenny Shults finally faced each other over the net. Emmanuel managed to turn this thriller into a victory and at the same time ensured his place as the worlds best net player. In freestyle finals Vasek Klouda continued his triumph by taking his 3rd successive World Championship title and the Finns reached their biggest achievement this far, when Jere Linnanen managed to take the 5th place. For the first time, there were four different nationalities represented ( US , Canada , Czech Republic and Finland ) in the freestyle final, which was a huge landmark in Footbag freestyles history.
The 26th World Footbag Championships were held in Finland. At the Helsinki Sports house (Urheilutalo) a hugh crowd witnessed Emmanuel Bouchard winning the World Footbag Championship in open singles net for the eighth year in a row. In doubles Net he completed his title collection for 2005 when he and his partner JF Lemieux , also from Quebec Canada , won the battle against Florian Goetze from Frankfurt and Patrick Schrickel from Berlin. This was the first time a European Net Team advanced into the final of the World Footbag Championships ever. In Woman Freestyle Carol Wedemeyer once again proved to be very cool under pressure and executed a sweetly smooth and difficult 3 drop set that proved good enough to eek out the closest victory in her 7 year run. Tina Aeberli, a 15 year old phenomenon from Switzerland, put the pressure on by hitting a difficult and beautifully choreographed 3 drop routine just prior to Carol's and became second after all. In open freestyle, 5 times World Champion Peter "The Executioner" Irish, USA, performed his final World Championship routine in nearly flawless fashion and in front of an adoring crowd. It was a one drop classic. Peter finished 5th overall and went out in style by setting a new world record in making the cut to the final round of Open Singles Freestyle at the World Championships for the 15th consecutive time.
The IFPA World Footbag Championships 2006 were hosted in Frankfurt, Germany. On the net court, the audience witnessed a landmark year in the Footbag sport's history: for the first time a European team, Florian Goetze and Patrick Schrickel both from Germany, won a title in the open category of Double Net. In open single net Emmanuel Bouchard won the final and the World Footbag Championship for the ninth year in a row against his Canadian team-mate Jean- Francois Lemieux. The women Freestyle competition was won with a beautifully choreographed routine by Tina Aeberli, who became second in the year before. Vasek Klouda executed a show-stopping performance in freestyle finals, winning his fifth open freestyle singles consecutive title and remains the man to beat at the World Footbag Championships for now.
The 28th Worlds Footbag Championships went to overseas once again and took place in the Disney Worldwide Sport Complex. Doubles Net title was clinched for the second time by last years winners German team Florian Goetze and Patrick Schrickel and Singles Net went once again to the one and only Emmanuel Bouchard. Vasek Klouda ruled all the freestyle disciplines and took home his 6th consecutive title, in women freestyle it was again Tine Aeberli from Switzerland.
Other info
Updates
Late check-in and registration info
Late registration and check-in will run on Sunday, August 10th, at Slavia Athletic Stadium (the event site) from 11am (11.00) to 10pm (22.00).
This is the time when you can arrive, pay your fees if necessary, and get your player's pack. This is the ONLY chance for you to check in if you did not pre-pay by August 7th!! Only "guests" (not competing) or pre-paid players will be able to pick up player's packs after this time.
for more info about check-in and registration check this page
Net schedule updated
Check the latest footbag net schedule
Important update
Hostel capacity of 120 beds have been used so you dont need to mail them anymore. We recomend that you contact other hostels in Prague for cheap accomodation. Please visit the accomodation page to see which we recomend.
Registration now opened
Official registration just launched! See more on registration page on footbag.org!
Tournament
For players
Photo
worlds 2008 models!