Freestyle Frisbee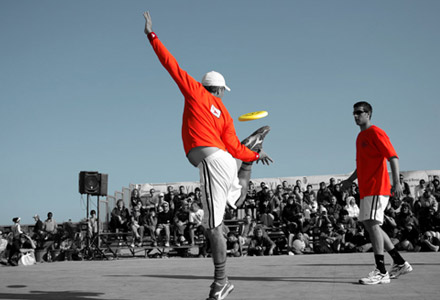 FPA European Freestyle Frisbee Championships
For the first time Prague will witness European Championships in Freestyle Frisbee which will take place in conjunction with World Footbag Championships. After two Frisbeer events already organized by the Prague crew the number of jammers is still rising and this event will help to spread the beauty of rotating disc event further.
Location:
Friday qualification rounds will be played on the field next to the main event stadium.
Saturday all finals day is on the main Stadium Pratelstvi.
Events:
Open Pairs, Mixed Pairs, Open Co-op
Schedule:
TBA
Other info
Web launched!
Official World Footbag Championships 2008 web was just launched. Please excuse temporary mistakes and lack of information. We are working very hard to improve!
Take a look at the possibilities of accommodation in prague. Tournament prices being still negotiated.
Footbag is a growing sport, originating in North America, though the sport is now played all over the world. Frequently referred to as "Hacky Sack®" (the registered trademark for a product manufactured by Wham-O, Inc.), footbag has existed as a competitive sport in several forms since 1972. more..
Tournament
For players
For visitors
Photo
worlds 2003 finals
worlds 2003 doubles finals
worlds 2003 net finals