Welcome to the 20th Anniversary of the World Footbag Championships.
NOTE: the freestyle prelim site is now final. The player info page has been updated with the location and directions!!! (July 9, 1999, 6:30pm)
On-Site Cellphone: 312-446-2234
---
The Windy City is hosting Worlds this year!
The City of Chicago Mayor's Office of Special Events is including the net finals in conjunction with the Mayor's Cup, July 17-18. The Mayor's Cup was started in 1994 during the World Cup. It is a five on five youth soccer tournament that attracts over 3000 competitors, ages 5 to 14, and over 10,000 spectators.
PLAYERS: read the Final Details announcement and print out the Player Information Page now!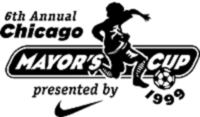 Chicago's Navy Pier Skyline Stage is the freestyle finals location. Navy Pier attracts 80,000 plus visitors per evening!

For more information, click on the appropriate menu item to the left or send email to the Worlds Staff at worlds@footbag.org.